Welcome
Community, News and hot topics of interest to those
who Enjoy and love KINOBAY.
Dear residents and visitors,


Last season was important because Kino Bays has new infrastructure and the global economics confirms that soon the best retirement destination for US and Canadians will be Mexico, and KinoBay has a lot to offer now.
You can see all about in our "Today's Video" and know more of new infrastructure and investments here.

Enjoy this season.
And better if you do in Kino Bay.

Best Regards.

Fran Escobell - Editor
KinoBay's member...

Now you can post on our FORUM and BLOG your comments and photos from your experiences and adventures in KinoBay. In addition we invite you to subscribe to also receive news and announcements in your email.

We appreciate the received comments, we will continue improving our Portal website to become it your favorite and we started to work to influence the care and sustainable development of our treasure: KINOBAY.
The next DREAMING place to live
Kino Bay has superior sand quality than Cancun, the famous Mexican resort place in the world.
Kino Bay has more than 10 miles of
uninterrupted lineup of beautiful beach front houses.
Kino Bay has beautiful mountain views and new developments for next housing developments generation.


Kino Bay is just one hour drive from an full service International Airport in Hermosillo. With several airlines that have daily flight to US and most cities in México.
Kino Bay - "A Peace of Mind" place to live or visit. No violence, No natural disasters, No earthquakes, twisters, fires and maybe every 10 years* a minor hurricane but no real property damages.


With just few dollars live like the rich residents in the California's coast.


- - - - - - - - - - - -
Only few US people talks about...

OUR TODAY PREMIER VIDEO

In US most reports are about illegal Mexican immigration but almost never talk about how thousands of Canadian and Americans are now living in Mexico (retirement)!

Fundamentals for a good investment.

Project – . "Blvd Marina and the waited marina" – We will publish here soon all about the advance of these dreamed projects. And also some other good projects. Coming Soon…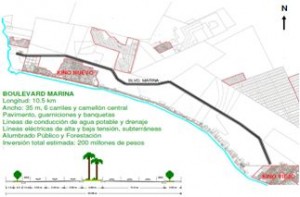 Project – "Nautical Staircase" –
An ambitious project linking investors from Baja and the United States with Sonora, embraced by the greatest natural aquarium in the world, the Sea of Cortez.
Learn more… Learn more…




"La Costera" highway – a new scenery
road conjuring resemblance to the California Coastal Highway 1 and 101 - going from the U.S. border all the way to the port of Guaymas, Sonora, will showcase unexplored development opportunities, beautiful seashore and desert settings, real state developments and neighboring communities to the North American market, drawing capital gains to funds invested that will surely skyrocket if timely action is undertaken. Learn more...


KINO's more projects will surely propel Kino Bay as one of the most highly coveted places for leisure and recreation. Learn more...
KINOBAY´s history at WIKI
Follow us on


Announce with Us


| | |
| --- | --- |
| News & Updates | |
REAL ESTATE: www.bienreal.mx/kino

KinoBays Newsletter and Surprises.


FREE SUBSCRIBE

HERE
New business - The best Ones - Important Changes and more..

KinoBay - Hotels & RVs ° Local services providers °
Cl

ub Deportivo

(American Community)

°

Restaurants
°
Kino Nuevo Residents

(

phone list

) °

Deportivo (American Community) °
Real Estates
°
Services and Places
°
More
...
Latest news BLOG
Editor's Choice & Collaborations.

Versión Español
ampliada:



--------------------------------------------

Good News:




A new paved road from Bahía Kino to Punta Chueca.


(Works began July 2, 2011)
Learn more here

Versión Español
ampliada:



--------------------------------------------

--------------------------------------------

Recent Magazine about KinoBay
May-Jun editions

CLICK here

--------------------------------------------

In response to the recent US State Dept Travel Advisory.

Sonora is SAFER than Phoenix USA!
Learn more here

--------------------------------------------


English version - Spanish version
We have now the right information about The Marina Project.
Apr 27 2011 - Development & Investing

--------------------------------------------

KINOBAY has now new infrastructure to promote its development (investments).
Apr 2011 - KinoBays development & Investing

--------------------------------------------

KINOBAY documental from a USA TV channel.
A paradise for retirement or visit.

--------------------------------------------

The best video production ever made. The Seris and its area in Kinobay.
CLICK to see VIDEO here

--------------------------------------------

GREAT SUCCESS !
Wine Gala & Art Show:


Jan 17th, 2011 - Special Event

--------------------------------------------

An extended vision and a GIFT:


Dec 19th, 2010 - NOW IS THE MOMENT!

More ... Since April 2010, posts + comments.

FREE SUBSCRIBE to receive our news, opportunities and special invitations by email.


From our KB Forum
new - WELCOME To our new
registered members: danjdelaney , wwolove0 , jddez . lsdilrywur2
Contact KinoBay
More information or
advertise with us Click here