Versión Ampliada y en Español -> AQUÍ

IN FEW MORE DAYS! … We will soon know the final project design and details of the new Marina.

Interview was conducted with government officials in recent days.
"The islands of Bahia Kino attract investment to install a Marina"
"The biggest international appeal of Bahia de Kino is not so much beaches but the islands and this motivated to be built in Kino Bay the expected Marina, as can navigate safely to Baja California," said Javier Tapia Camou.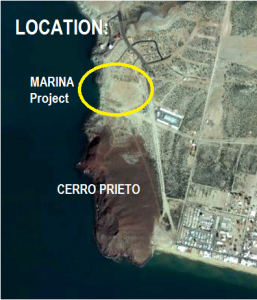 Commissioner for Tourism Development (Cofetur) said the project to have a marina in Bahia Kino is maintained, and that in 30 or 40 days, the investors shall submit the final design.
Stated that they have been communicating with investors "Millennium", which is a company of  Monterrey, who work in the final design.
"Investors in a little over a month would be ready to apply for building permits and construction, as well as display the project and how it will end."
Camou Tapia said that entrepreneurs working in the Navy studies, such as depth of the bay, soil structure, among other things.

For Hermosillo and Kino Bay would be a trigger, he said, it has been a dream of having the Navy as it implies the ease of creating a nautical staircase through the islands and this is the biggest attraction to exploit.
"Many people think that the biggest attraction is the beaches, but there are islands and is the shortest way from there to the mainland of Baja California. Also, the safest route is starting from Kino Bay because you never stop seeing land and each island is a beauty for diving, "he said.
The representative of COFETUR (Government) pointed out that going to the Baja California peninsula involves moving in boats, that is why the Marina is projected to be a trigger for the growth of Kino Bay.