—Full document:
—Versión Español AMPLIADA:
KinoBay's north area now an opportunity for developers and investors.

A road that will benefit KinoBay's residents, which will trigger the development of a wide area (KinoBay north) and opportunity for Investors.
Also, this is an advance of the statal project "La Costera" to detonate all the Sonora's coast and a direct conection to USA.


HERE SOME NOTES ABOUT THE PUBLISHED NEWS this last July 2, 2011.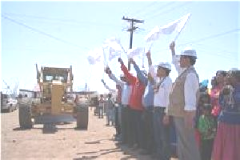 The road work has an initial investment of 50 million pesos. The Seri's community "Konkaak" received the news from the Ministry of Infrastructure and Urban Development who also started the construction of the paved road from Bahía de Kino to Punta Chueca.
The road will help for a better development of the Seri's community, this road also will continue to the northward to Puerto Libertad and by this, the Seri's community will no longer be isolated.
Soon this road project will join the "Carretera Costera". From Puerto Penasco (Rocky Point) to Kino Bay, An easy and direct way to connect California to Kinobay.
Also, there are more works envisaged for the development of this comunity. The Seri is nationally famous for its ethnics traditions, culture, religion and hand made souvenirs "Artesanias"
KinoBay – Real Estate  – RELATED Advertise: